India and its relationship with the coronavirus have been a weird one. When the world started reeling under covid-19 deaths, our country maintained a very low fatality rate, even with massive levels of under testing. When statistic models across the world had estimated more than 300 million cases in India last year and bone-chilling deaths, shivers ran down the spines of every citizen. However, that did not happen. We managed to beat the virus with strategic lockdowns and an upgrade of the health infrastructure. With daily cases falling to almost 10,000 daily, and vaccines slowly being available, we had thought that we almost won the fight against the killer virus.
The celebration was too early. With our very own double mutation and public fatigue of the virus, cases started skyrocketing making the first wave seem like child's play. If the peak of the first wave was 96,000 cases, we are already at almost a daily 3,00,000 cases with the peak of the second wave far away and is estimated at above 6,00,000 daily cases. That is a grim situation. No matter how advanced or well-equipped the health infrastructure, no system is equipped to manage such a tsunami of cases. So, the inevitable happened. As the hospital beds started running out, oxygen cylinders started becoming rare, the States had to once again consider lockdowns. With an economy already crippled, this would have been a final blow that would sound the death knell of one of the most promising emerging economies.
This country needed a quick intervention, a rather bold one. While the Prime Minister talked about providing financial support to vaccine makers a day back, it started the buzz of whether vaccine production for domestic use would be scaled up, and whether it would be opened up for a wider age group. The cases were rising, the beds and corridors of hospitals were filling up, and amidst the sense of doom and whispers, the speculation of another masterstroke by Modi was doing rounds. And, he did deliver.
After the Prime Minister held a string of meetings today from 12:30 pm with high-rank officials, the government announced that vaccinations will be widened to everyone above 18 in the next stage beginning May 1. All adults will be vaccinated in "a liberalised and accelerated Phase 3 strategy of COVID-19 vaccination", the government said in a statement as reported by NDTV. "Government has been working hard for over a year to ensure that maximum numbers of Indians are able to get the vaccine in the shortest possible of time," the PM said.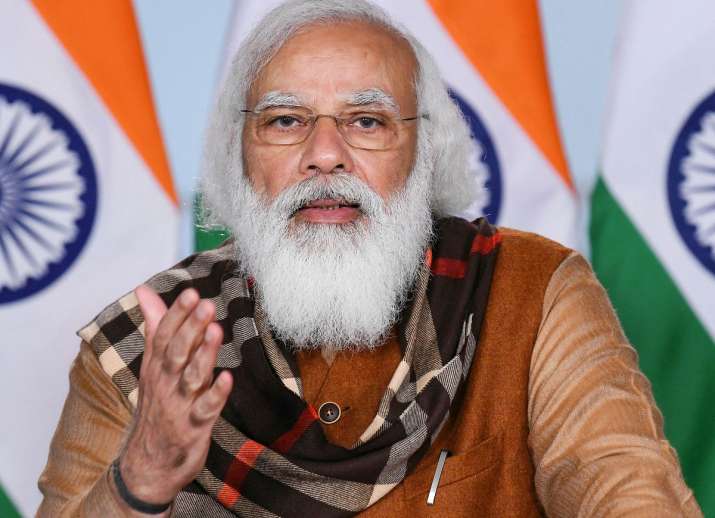 Not restricting the vaccination drive to domestic vaccines, Indian drug regulator has also given permission to restricted the emergency use of the Sputnik V vaccine. The first batch of Russia's coronavirus vaccine Sputnik V is expected to be delivered to India by April-end. Dr Reddys Laboratories received approval from the DCGI for the restricted emergency use of the Sputnik vaccine in the country. The American vaccines from Pfizer and J&J await confirmation, thus majorly boosting India's vaccination drive.
The key points of Phase 3 of the vaccine drive from May 1 are:
Vaccine manufacturers would supply 50 per cent of their monthly Central Drugs Laboratory (CDL) released doses to the Indian government and would be free to supply the remaining 50 per cent doses to state governments and in the open market.
Manufacturers would transparently make an advance declaration of the price for 50 per cent supply that would be available to State Govts. and in the open market, before 1st May 2021. Based on this price, State governments, private hospitals, industrial establishments etc would be able to procure vaccine doses from the manufacturers. Private Hospitals would have to procure their supplies of Covid-19 vaccine exclusively from the 50 per cent supply earmarked for other than the government of India channel. Private vaccination providers shall transparently declare their self-set vaccination price. The eligibility through this channel would be opened up to all adults, i.e. everyone above the age of 18.
Vaccination shall continue as before in Govt. of India vaccination centres, provided free of cost to the eligible population as defined earlier i.e. Health Care Workers (HCWs), Front Line Workers (FLWs) and all people above 45 years of age.
All vaccination (through Govt. of India and Other than Govt. of India channel) would be part of the National Vaccination Programme and mandated to follow all protocol such as being captured on CoWIN platform, linked to AEFI reporting and all other prescribed norms. Stocks and price per vaccination applicable in all vaccination centres will also have to be reported real-time.
The division of vaccine supply 50 per cent to the Indian government and 50 per cent to other than the Indian government channel would be applicable uniformly across for all vaccines manufactured in the country. However, Government of India will allow the imported fully ready to use vaccines to be entirely utilized in other than the Indian government channel.
The Government if India, from its share, will allocate vaccines to states/UTs based on the criteria of extent of infection (number of active Covid cases) & performance (speed of administration). Wastage of vaccine will also be considered in this criteria and will affect the criteria negatively. Based on the above criteria, State-wise quota would be decided and communicated to the States adequately in advance.
The second dose of all existing priority groups i.e. HCWs, FLWs and population above 45 years, wherever it has become due, would be given priority, for which a specific and focused strategy would be communicated to all stakeholders.
With the crisis in the country getting severe under the second wave, this was a much-needed step and will be welcomed by all sections of society. In the next few weeks, the supply chains and infrastructure gaps need to be tightened and logistics need to be in place to ensure a smooth vaccination drive without any wastage, which would make the vaccination drive a successful 'Tika Utsav' as imagined by the leader of our Nation!