In what appears to be the most high profile arrest in the Delhi Riots incident of February, former Jawaharlal Nehru University (JNU) student leader Umar Khalid was arrested under the stringent UAPA late Sunday night in connection with a case related to the conspiracy behind North East Delhi riots.
Khalid was already booked under the Unlawful Activities (Prevention) Act (UAPA) along with Jamia student and RJD youth wing president Meeran Haider, JCC media coordinator Safoora Zargar, and Danish, a resident of northeast Delhi's Bhajanpura.
The case is being probed by the Delhi Police special cell, which is looking into a "larger conspiracy angle" behind the riots that took place in February, in which at least 53 persons died and 400 others were injured.
Khalid was under the scanner of the police for a long time. On July 31st, August 1st, and September 2nd he was summoned but let off after interrogation. The police summoned him again on Saturday and Sunday and he was arrested after being questioned for around 10 hours. The former JNU student will be produced before a Delhi court today, i.e. Monday.
Khalid's name had appeared in the charge sheet submitted by the police against suspended Aam Aadmi Party councillor Tahir Hussain. The charge sheet stated that on January 8, Hussain met Khalid and United Against Hate co-founder Khalid Saifi at Delhi's Shaheen Bagh during a protest against the Citizenship Amendment Act, where "Umar Khalid told him to be prepared for something big/riots at the time of the visit of US President [Donald Trump]".
According to The Quint, the Delhi Police claims that a 'public witness Y' said that at a private meeting held a few weeks before the February 2020 violence, JNU student Umar Khalid said, "Khoon bahana padega, aise nahi chalega. Chakka jaam hi aakhri rasta hai. Humein sarkaar ko ghutno ke bal laana hi hoga. Sanghiyon ki sarkar aise nahi maanegi."
Translation: "We will have to shed blood, this can't go on like this. The road blockade is our last recourse. We have to bring the government down to its knees. This government of the right-wing will not listen otherwise."
The charge sheet reads: "In the last week of January 2020 Umar Khalid had participated in a private meeting at the office near protest site Old Bus Stand, Seelampur and in the meeting, the present applicant and her associates were present there. Umar Khalid told them that only speeches were not sufficient now as the government is against Muslims." This is when he made the aforementioned statement, according to the charge sheet.
On 1 September, Khalid wrote to Delhi Police Commissioner SN Shrivastava detailing how someone he knew was coerced into giving a false statement to the police against him. When the witness had tried to resist the statement, he was threatened by the investigating officials that they would then add in his statement how he himself had played a role in planning the chakka jam, Khalid wrote. They also threatened to arrest him under UAPA and eventually the person recorded his statement in front of a video camera and signed on a document, he added.
The portion concerning Umar Khalid read, "Umar Khalid ne bola sahi waqt aane par hum Dilli mein chakka jam karenge jisse Sarkar ko yeh kanoon waapis lena pade."
Translation: Umar Khalid said that when the right time comes we will organise a road blockade in Delhi, because of which the government will have to take this law back.
Responding to this specific allegation, Khalid said in his letter to the police commissioner, "None of what is attributed to me in this pre-drafted statement that XY was coerced into giving was ever said by me. Despite not having a legal case or evidence against me, they are attempting to build a narrative in the minds of the general public to create a ground to take action against me based on such obviously false accounts and fabricated statements."
However, the letter did not help Umar's case, not did it grant him protection.
Khalid's arrest came a day after the police named Communist Party of India (Marxist) Secretary General Sitaram Yechury, economist Jayati Ghosh, Delhi University professor Apoorvanand, Swaraj Abhiyan leader Yogendra Yadav and documentary filmmaker Rahul Roy, as people who had "encouraged" the anti-Citizenship Amendment Act protestors as part of a plan.
Umar Khalid is a member of the group 'United Against Hate'. On August 1, Delhi Police had questioned Umar over the speeches he delivered at the protest site in Shaheen Bagh along with Khalid Saifi, a co-founder of the group, days before the riots. Investigators had also seized Umar's mobile phone at the time.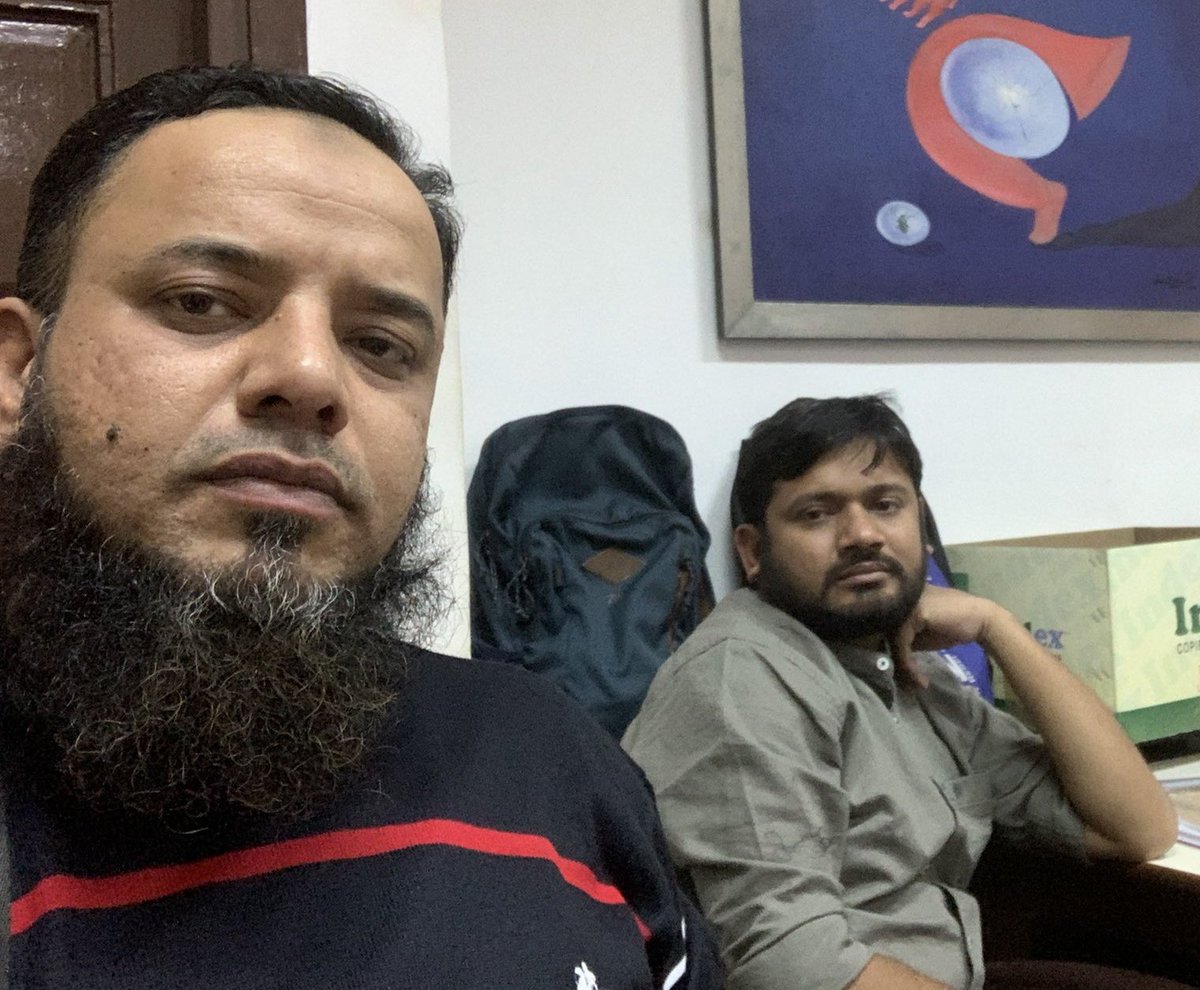 Khalid Saifi was arrested in June. The Delhi Police had indicated that Saifi played a "crucial role" in arranging a meeting between Umar and suspended AAP Councillor Tahir Hussain who is also behind bars in connection with the riots. Meanwhile, the group 'United Against Hate' said in a statement according to NDTV that the Delhi Police must 'ensure Umar Khald's safety by all means possible'.
"After 11 hours of interrogation, the Delhi Police Special Cell has arrested Umar Khalid as a "conspirator" in the Delhi Riots case. The fairytale narrative that DP has been spinning criminalising protests in the garb of investigating riots, find yet another victim. The fight against draconian CAA and UAPA will go on despite all these horrid measures of intimidation. Right now, our first priority is that he should be given maximum security and the Delhi Police must ensure his safety by all means possible," said the statement.
Umar Khalid's father too, took to Twitter to inform about his son's arrest. He wrote on Twitter, "My son Umar Khalid has been arrested tonight at 11:00 pm by Special Cell, Delhi Police under UAPA. Police was questioning him since 1:00 pm. He has been implicated in Delhi Riots. #StandWithUmarKhalid"
My son Umar Khalid has been arrested tonight at 11:00 pm by Special Cell, Delhi Police under UAPA. Police was questioning him since 1:00 pm. He has been implicated in Delhi Riots. #StandWithUmarKhalid

— Ilyas SQR (@sqrIlyas1) September 13, 2020
Senior advocate Prashant Bhushan also strongly protested against the arrests.
Umar Khalid's arrest by Delhi police after naming Yechury, Yogendra Yadav, Jayati Ghosh& Apoorvanand, leaves no doubt at all about the malafide nature of it's investigation into Delhi riots. It's a conspiracy by the police to frame peaceful activists in the guise of Investigation

— Prashant Bhushan (@pbhushan1) September 14, 2020
Khalid, who shot to fame in 2016 along with Kanhaiya Kumar has been a voice of protest against the government and has a large youth following. After his arrest, netizens took to Twitter to air their grievances.
"We won't respond to violence with violence. We won't respond to hate with hate. If they spread hate, we will respond to it with love. If they thrash us with lathis, we keep holding the tricolour." –@UmarKhalidJNU

#StandWithUmarKhalid#FreeUmarKhalid

— Karuna Nundy (@karunanundy) September 13, 2020
It's crystal clear that the arrest of @UmarKhalidJNU has nothing to do with investigating riots, and everything to do with abuse of State power.

This extends to people cheering it: they too know full well that they're cheering the use of State power to jail political opponents.

— Gautam Bhatia (@gautambhatia88) September 13, 2020
Too early to pass judgment, we await further developments of the incidents. The Delhi Riots were attacks on the fabric of democracy and secularism of India, and whichever individual(s)/group(s) is/are responsible for the attacks must be brought to justice.