"13-year old Wolf Gupta learned AI to get a $1.2 million job from the world's biggest company Google" – reads an advertisement by WhiteHat Jr.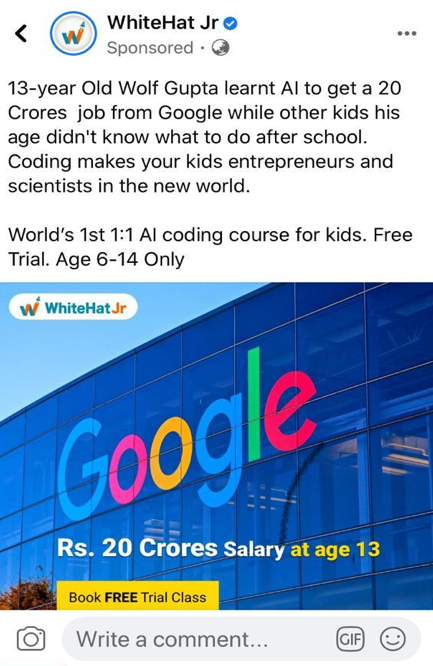 In another advertisement, the claims change. It doesn't even make much sense.
The advertisement now reads," 9-year-old Wolf Gupta learned computers to earn Rs.150 crore from Google Video while other kids his age were surfing Youtube videos."
So, the kid got younger by 2 years and is now earning an extra 19 million dollars. If this isn't insane enough, let's look at another advertisement by WhiteHat Jr.
"Space Technology is the #No.1 future for kids. Your kid can code a spaceship in just 46 mins. Enroll now."
This clearly looks like an unethical, false, aggressive advertisement and without the permission of even the people, Whitehat Jr was making outlandish fantasy claims to lure parents to enroll their children for the various courses. The company uses the pictures and 'quotes' by eminent tech pioneers that sometimes parent ends up thinking WhiteHat Jr is a part of that very company – like Google, or SpaceX or Microsoft.
Time and again, several people have questioned WhiteHat Jr (and also Google) about whether the company's products are endorsed by Pichai. Worse, WhiteHat Jr's ORM team chats show that certain customers in the US have confused WhiteHat Jr to be part of Google, only to have lost their sh*t when they found out that it actually was not.
Google is quite clear that WhiteHat Jr does not have the authorization to use Pichai's image in its marketing material. According to Morning Context In an emailed response, a Google spokesperson said, "Google trademarks should not be used by third parties for commercial purposes without explicit permission or license and we work to enforce against misuse of our trademarks through the appropriate channels."
Not to put too fine a point on it but WhiteHat Jr's marketing team went rogue by using images and videos across the spectrum. From Microsoft's Bill Gates (marketing line: Coder at age 7, CEO at age 21) to Apple's Steve Jobs to Elon Musk from Tesla, just a few to feature in its promotions. At all times, the company was fully aware that it did not have the requisite permissions to do this, and that there could be action against it. But ethics took a backseat. A few examples to drive this point home.
In July 2020, WhiteHat Jr released an ad in the US which had Steve Jobs in it, quoting him as having said: "Everyone should learn to program a computer because it teaches you how to think." Nikhil Mittal passed down this message to the ORM team (screenshot and link of which are now deleted as per the honourable High Court ruling) : "Team, let me know the comments received on this ad in the USA tomorrow. Need to take a call. We will buy copyrights of this video if +ve comments."
His colleague Pranav Sood responds: "The video is really good tbh. Saw it earlier in the day today."
Mittal: "It is copyright. So tell me the reviews. Any backlash?"
There you go. They knew what they were doing but just didn't care.
Another matter altogether is that WhiteHat Jr's spokesperson, Sameer Bajaj, who incidentally is part of the ORM Slack channel (he only joined in October, though), insists that the company has done no wrong. "Once again this question is based on a lack of understanding of copyright law," he says, replying to a detailed list of questions, according to The Morning Context. "Not sure what 'illegal practices' you speak of. The images of Bill Gates etc. were illustrative and do not amount to a violation of copyright law."
There's of course the matter of Elon Musk and SpaceX. According to Morning Context, late in July, the company reached out to WhiteHat Jr:
"Hi! My name is Kelsey and I'm on SpaceX's communications team. We noticed you've been using our logo on our building in your sponsored posts. While we certainly consider education a worthy cause, we ask that you please refrain from using our name or logo. Thank you!"
WhiteHat Jr was later forced to delete the post.
By now a picture has formed in the reader's mind regarding the kind of an 'educational platform' Whitehat Jr is. Practicing immoral business tactics, this startup which has been acquired by Byju's has been going after any kind of criticism, trying to silence and bury it.
A venture capital investor who's been around for over a decade, invested in more than 30 companies, and perhaps looked at a thousand more, says WhiteHat Jr gives him the chills. "I don't know if this is the insecurity of the founder of the company but the scale to which they have gone to do this is unbelievable," he says over the phone to The Morning Context. He asked not to be named.
"They had a good thing to begin with but it has been absolutely downhill since. Now you are actually left wondering, what exactly are they afraid of?"
For a start, Pradeep Poonia. The whistleblower, as we move into the next part of the story.
***
For a while now, Pradeep Poonia, an ex-product manager at ed-tech firm NextEducation, has unleashed scathing attacks on WhiteHat Jr. He alleges the company is "spreading false advertisements to sell what was already there for free on (the) internet," he told Quartz on Nov. 22.
What's more, is Poonia also claims his criticism was quickly suppressed. According to him, WhiteHat Jr got 16 of his videos across two YouTube channels and three LinkedIn articles removed. He accused the firm of getting two of his Reddit accounts, a Twitter handle, a Quora account, and a LinkedIn account suspended.
"I actually don't care much about other startups," he says speaking to Ashish K. Mishra. "So I will just talk about edtech startups. What WhiteHatJr and Byju's are doing is selling what's out there for free already. There is no value in their product; they create a false demand for their products via urgency pitches in their sales calls, and false advertisements trying to fool gullible kids. The precedent which WhiteHat Jr is trying to set is dangerous because other edtechs would eventually have to follow such cheap practices to sustain in the market, and as of now most of them have already started doing it. The teachers, academic department and R&D people of any edtech should be the ones getting the best salaries, not the sales and marketing people. And right now it's the exact opposite of it."
Poonia says this is at the heart of his motivation. Why he has spent the last several months chasing after the company, spending hours leaving critical feedback of their coding classes, quality of teachers, and over-the-top marketing? Contrary to rumors, and there are many, it is not money, not fame, not some hidden agenda being paid for by WhiteHat Jr's competitors.
"I just wanted to post my reviews about this company, which is so obviously a scam," he says. "First, I just did some comments under some answers on Quora and made a very straightforward video: Who is Wolf Gupta. And then a couple more showing fake reviews of WhiteHat Jr on Google Play Store. And my videos were removed and my Quora account was banned. The fact that the videos were removed even when they had no copyright infringements and hardly any views—10-15, most of which were mine—raise red flags for me that something is really wrong with this company."
Almost banned from every platform, Pradeep Poonia took to Reddit finally, under the r/India subreddit to post about the constant online bullying he's faced every time he tried to talk or write about WhiteHat Jr. Cross-posted across various technology subreddits, his posts started garnering traction – especially among the late 20s working youth and IT people and engineers who saw through the gimmicks of WhiteHat Jr. Poonia's videos, and tweets started to be shared by people, that is when WhiteHat Jr, nervous and clearly rattled, decided to take a step to finish Poonia's activism once and for all.
The company in an attempt to shut him down, filed an Rs.20 crore defamation case against him. That's when Pradeep Poonia blew up. If his posts had been earlier limited to just Reddit and few hundred followers on Twitter, they now started being picked up by tech YouTubers, news outlets started picking up the news, people started talking about the issue as a David vs Goliath case, Reddit got crowdfunding set up for him to fight the legal battles. Whitehat Jr realized, in an attempt to kill David, they had just helped him realize he wasn't alone.
The Reddit post which Poonia made, has garnered over 11,000 upvotes and almost 1000 comments. Angered Redditors who are delightful activists when enraged took upon the cause seriously this time.
A Reddit user by the name 'protrombone' wrote: "You have hard evidence to support every claim you have made against them. You have no reason to fear. Don't let them intimidate you. I will contribute to your fund but I believe your case is so clear that there will be law firms who will be willing to take this up pro-bono. Crosspost this to r/LegalAdviceIndia subreddit and seek their suggestions. Ask them to PM you instead of commenting. These ORM hounds are most definitely sniffing around on Reddit. It might be worth checking with lawyers if there is a possibility of a class-action lawsuit. If all parents who were cheated by this company come together to sue, that is a bigger threat to their model and they might rescind their defamation suit, which does not have much ground to stand on in the first place. Let's find a permanent solution to this problem. Tell us what you need and we will all do this together."
Another Redditor contributing to the legal battle fund wrote: "People like you are fighting for my kids future. I can contribute 1000 per month."
Another Redditor went even further, "10k from me and 2.5k every month till the case is over."
Hundreds of others mentioned contributing to the fund as well as sharing it with their friend circle and raising money.
The incident has already been covered by Techcrunch, Morning Context, Inc42, Forbes, The Ken, Quartz and Scroll.in to name a few. The defamation charge made it on to Inshorts, helping the news gain a lot of coverage. As per Reddit, Bloomberg might be covering the news soon as the incident has been getting international attention.
Most of the customers of WhiteHat Jr, which is aimed at kids, live in America, and demand for its one-to-one classes has surged nearly 90% this year, according to the startup.
In the lawsuit against Poonia — in which Bajaj is seeking $2.7 million in damages — Poonia has been accused of infringing trademarks and copyright of properties owned by WhiteHat Jr, defaming and spreading misleading information about the startup and its founder, and accessing the company's private communications app.
But the lawsuit, riddled with spelling and grammatical errors, appears to be also indicative of just how little criticism WhiteHat Jr, owned by India's second most valuable startup Byju's, is willing to accept. According to internal posts of a Slack channel of WhiteHat Jr shared by Poonia, the startup has aggressively used copyright protection to take down numerous unflattering feedback about the startup in recent months.
The suit also raises concern with Poonia accusing WhiteHat Jr of "murdering" an imaginary kid that featured in one of its earlier ads. A 12-year-old child named "Wolf Gupta" appeared in earlier ads of WhiteHat Jr, which claimed that the kid had landed a lucrative job at Google. The kid does not exist, the lawyers of Bajaj say in the suit.
Mother of irony. As this was the exact argument that Poonia, who spent a long time trying to unearth more information about this supposed poster child of WhiteHat Jr, was making in his tweets.
Scores of education startups in India have reported skyrocketing growth in recent months as schools remain shut across the country amid the coronavirus pandemic. Even as most Indians tend not to pay for online services, the education category is an exception. Indian families continue to spend heavily on their children's education in hopes of paving the way for a better future for their children, and startups like WhiteHat Jr, seem to have cashed in on that perfectly.
As for Poonia, he says that he's not afraid about what or who is going to come for him. The number of strangers threatening him with legal cases and physical harm is only increasing by the day.
"Back in September I was sent indirect messages from mutual contacts that I could be sued for defamation," he said. "Then the Panzy Saran incident on LinkedIn and Twitter, where a WhiteHat Jr director literally harassed me in front of so many people on LinkedIn for 6 days. She kept instigating me to reply to her threats, called me a coward and ass, their teachers called me a dog… Finally, on the night of 12th Nov 2020, I got a DM on Telegram from an ID @a21456mishra giving me threats saying, 'You have no idea what's to come in future when we just move one step forward… sleep well for today… we know your location… we won't come for you directly… but if we want we can come for you tomorrow.'"
When asked what he plans to do, Poonia says," This is me. I am not afraid. I will not back out. I will be putting out more videos. I will fight till my pockets are empty."