2020 has been a unique year – unexpected in most parts, and quite disastrous. A new virus took a grip of the world in the form of a pandemic and brought the international machinery to a standstill. As we struggle to cope up and patiently wait for a vaccine to lift the shackles of new societal norms and constraints, renewed fear has gripped India and the world once again with the reporting of a 'mystery illness' in Andhra Pradesh, which has made close to 500 people sick and killed one.
The incident took place in Eluru of West Godavari district. Officials initially suspected contaminated drinking water or air pollution to be the cause, both were ruled out by Sunday evening. Health Minister A Kali Krishna Srinivas said blood samples and swabs have been sent for lab analysis, with reports awaited. "We ruled out water contamination or air pollution as the cause after officials visited the areas where people fell sick. Water samples were sent for testing and no contamination was found. Blood samples of the patients have been sent to labs. No viral infection has been detected. All the patients are COVID-19 negative. It is some mystery illness and only lab analysis will reveal what it is," Srinivas said.
Describing the typical symptoms a medical professional at the hospital said that the people who fell sick, especially the children, suddenly started vomiting after complaining of burning eyes. Some of them fainted or suffered bouts of seizures while some were in critical condition, awaiting treatment after diagnosis. Yet more than two days after a mysterious disease struck the people of several areas in Eluru town in Andhra Pradesh's West Godavari district, the authorities are still clueless about its cause.
The casualty ward of the government hospital at Eluru continued to be flooded with patients complaining of giddiness, seizures, convulsions, and epilepsy even at 9 pm on Monday, and ambulance sirens continued to blare in the hospital premises bringing more and more patients.
"We have not come across such a strange phenomenon till now. Strangely, most of them are showing signs of recovery within hours of being administered medicines for symptomatic treatment. But more and more patients are getting admitted to the hospital for the same symptoms," Dr. T Geetha Prasadini, director of public health told Hindustan Times. So far, there has been only casualty – that of a 45-year old patient Sridhar from Vidyanagar area, supposedly due to this mysterious disease. "He also got admitted with the same symptoms. He got cured by evening, but suddenly collapsed later. We are awaiting the post-mortem report to know the actual cause," Dr. Geetha said to The Hindustan Times.
According to her, most of the patients who suffered from symptoms of the mysterious disease were in the age group of 20-30 years, but there were around 65 children below 12 years of age.  The affected persons complained of 3 to 5 minutes of epileptic fits without repetition, forgetfulness, anxiety, vomiting, headache, and back pain. However, there appears to be no sign of human to human transmission of illness, much to the relief of doctors.
Several teams of medical experts, molecular biologists, and public health experts have landed in Eluru to ascertain the exact cause of the disease. A team of doctors from All India Institute of Medical Sciences, Mangalagiri, has already collected samples of blood, urine and saliva of the patients to find out the causes for the mysterious disease.
Dr Geetha said drinking water samples in 32 ward secretariat limits, from where the cases were mostly reported, were tested and reports of blood samples of the patients were normal. "Blood samples taken for Hb, CBP, LFT, RFT and GRBS- were normal and blood samples were inoculated, and reports are awaited. Viral markers for IgM ELISA, for Chikungunya, Dengue, HSV-2, and all samples reported negative. The CT scan reports were also normal," she said.
The causes of the outbreak are not known yet. She said the cases are being reported in Eluru rural and Dendaluru apart from Eluru urban and all age groups are prone to the infection.
Chief Minister Y S Jagan Mohan Reddy visited the hospital on Monday and interacted with the patients and attendants and assured them of all help while also keeping a tab of the updates, arranging zila meetings at the zila parishad office here on Monday, and instructing the officials to be vigilant and ready to handle any situation. He inquired about the treatment being given to the patients who fell ill, and the measures being taken for the control of the situation.
He also enquired about the possible causes of the outbreak and about the medical tests and investigations that are being carried out on patients. The Chief Minister suggested that officials of the Health Department should stay put to monitor the situation and that emergency numbers be created for urgent assistance when distress calls are received.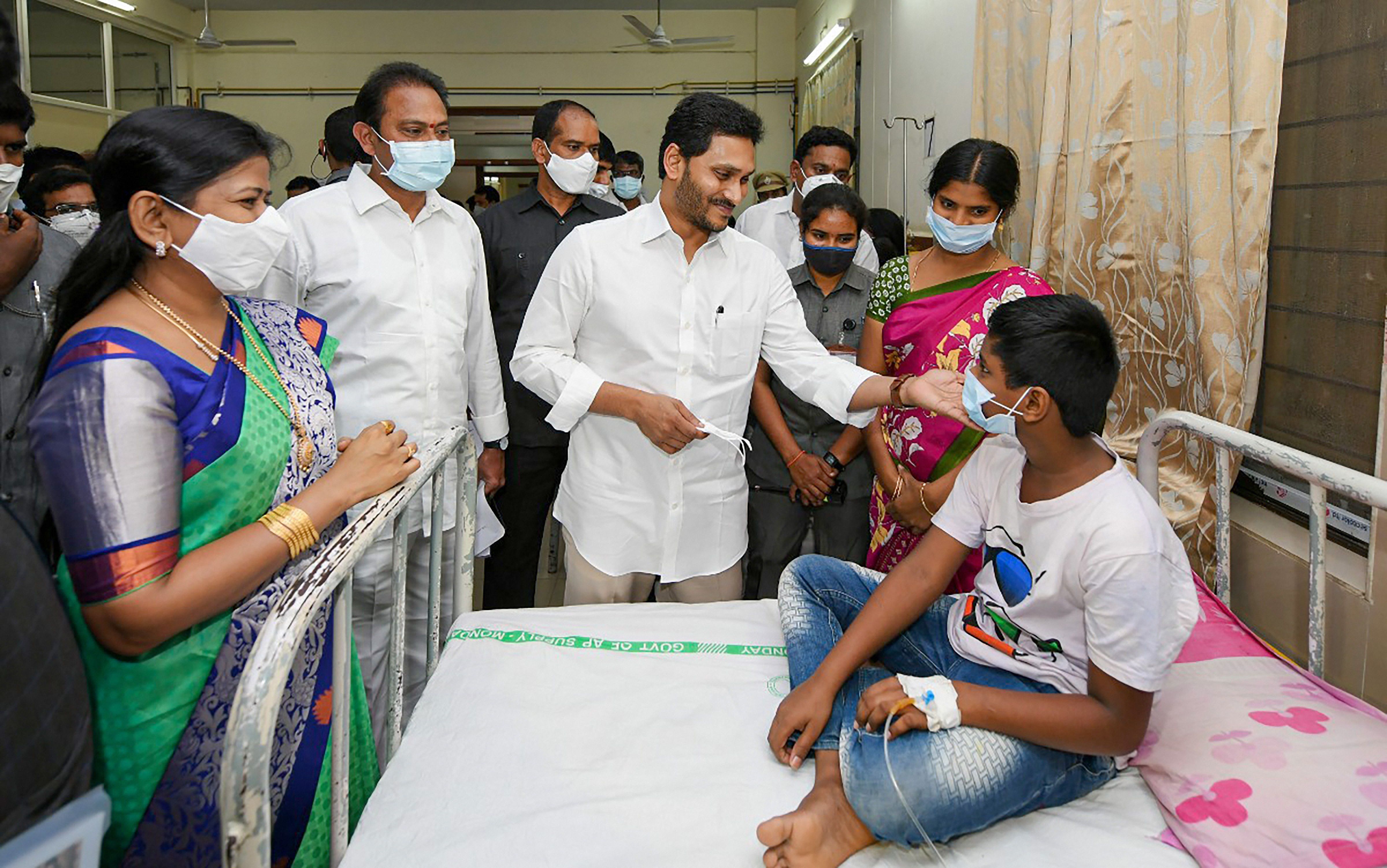 Meanwhile, Union health minister Dr. Harsh Vardhan constituted a three-member expert team led by AIIMS emergency health care head Dr. Jamshed Nair, National Institute of Virology expert Dr. Avinash Devashtawar, and NDCC deputy director Dr. Sanketh Kulakarni. The team will be coming to Eluru on Tuesday to assess the situation as reported by The Times of India.
Though the expert panel will be coming in for a conclusive report about the outbreak, preliminary analysis of various test reports have almost established the role of organochlorine substances in the infection outbreak. Organochlorine pesticides are chlorinated hydrocarbons used in agriculture and mosquito control. The compounds in Erulu include DDT that is widely used in anti-mosquito fogging. "Mostly yes, but we are waiting for the laboratory report (for confirmation)," a top official said when asked about organochlorine being the disease-triggering agent.
Meanwhile, anxious social media users tweeted about Eluru and wondered whether it is a "new disease" or a case of "poisoning".
Really shocked and horrified to see whatever is happening in eluru town. Be safe. Hope we find exactly what is this and a solution to this so called mysterious disease. #Eluru

— Ambati Karthik (@AmbatiKarthik7) December 7, 2020
Conspiracy theories abounded as well with one user suggesting that it was a case of mass poisoning.
Deeply concerned about the situation in Eluru, India. It sounds like some sort of mass poisoning; although the government says this is not the case. Hoping everyone gets well soon. #Eluru

— Joe 🇬🇧☀️🦚 (@JoeSaysHello) December 7, 2020
As the country awaits a conclusive report and most importantly a definite cause of the outbreak, the government needs to make sure that it stays agile and does not get casual regarding the matter. Medical supervision teams need to be set up to ensure everyone from the affected region are in safe bio-bubbles, without any chance of a further outbreak, while the ones affected must be under proper treatment that allows them a quick recovery from the 'mystery disease.'