"I have always believed, and I still believe, that whatever good or bad fortune may come our way we can always give it meaning and transform it into something of value." Hermann Hesse said it in Siddhartha. How it rings true for Manasi Joshi, the para-badminton world champion. She did not set out to be an international athlete, and she certainly didn't plan to become an advocate for disability rights in her native India.
Her extraordinary journey began eight years ago in 2011. It was a painful story at first. She was a 23-year-old software engineer riding her scooter to work in Mumbai when a truck smashed into her, crushing her left leg and breaking both arms. Joshi unfortunately lost her left leg permanently, pulling her from her path as a software engineer and launching her on a different, more meaningful journey. Now the inspirational World champion, who has featured on the cover of Time magazine and has had a Barbie doll created in her image, is targeting Paralympic gold when the sport debuts in Tokyo next year.
"Sports helped me break stereotypes," Joshi says. "I now want to use that experience to be an enabler for others. It has been a journey about learning and accepting different things. Working hard on things that looked hard but are a new normal now. So I have come a long way," said Joshi from Ahmedabad.
After she learned to walk again using her new prosthetic leg, a process that took four months, she turned to her favorite childhood sport, badminton, to help her body regain its balance. But it did much more than that. "It taught me to do my best with whatever I have," she says.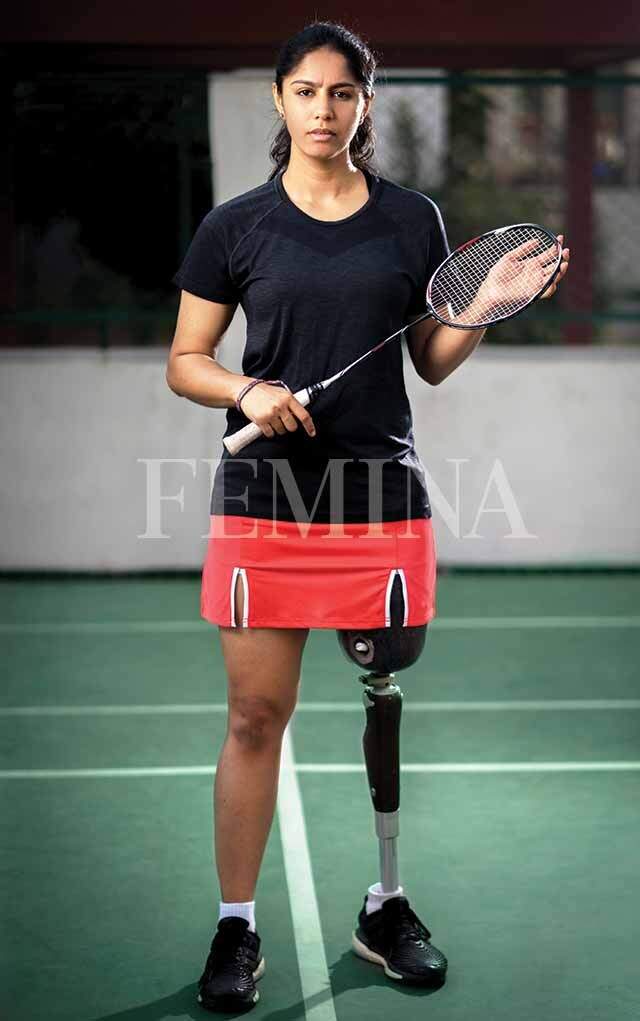 Five months after putting on the artificial limb, Joshi won her first gold in an office tournament against able-bodied players. "I used more of my mind. Made people run, made sure that wherever I put the shuttle they end up giving it to my hand so that I could finish the point," she said to The Hindu. "It was a turning point after my injury and the win certainly boosted my confidence."
Emboldened, she trained harder with the support of her family and eventually quit software engineering to play badminton full-time in 2016. Two years later, she joined P. Gopi Chand's academy in Hyderabad and became a member of India's National para-badminton squad.
What followed was a whirlwind of national and international medals. In August 2019, she won gold in Switzerland at the BWF Para-Badminton World Championship, one of the world's biggest badminton tournaments. Her achievement was initially overshadowed by the victory of a prominent non-disabled Indian badminton player. But days later, social media—noticing the lack of coverage of her victory—heaped praise on Joshi.
She returned from Switzerland a celebrity and started getting recognized on the street. When a young amputee called her a role model, she realized she felt a responsibility beyond her sports career. Even before her 2019 victory, Joshi had been vocal in urging the Indian government to waive taxes on prostheses and other disability aids. But her new popularity has helped amplify the issue. More than 26 million people live with some form of disability in the country. Although the country has made progress in recent years, attitudes toward people with disabilities remain a major hurdle.
Joshi and disability campaigners hope a strong showing at Tokyo's Paralympics next summer could help change perceptions about disability in India. But ultimately, she believes her success in badminton, one of the most popular sports in India, will inspire people to find opportunity in adversity. "Because when I did that," she says, "it helped me break barriers and set me free."
Manasi has been listed as the Next Generation Leader 2020 by Time magazine and will be seen on their Asia cover. She is the first para-athlete in the world and the first Indian Athlete to make it to this list. A feat about which she should be going gung-ho over her feat, but Manasi has always believed in poise. Her temperament said to be her biggest positive, Manasi's mind is a calm lake – clarity of thoughts, controlled emotions, and calculated words.
"I feel honored to be listed as the NextGeneration Leader by Time. I personally think that seeing a para-athlete on the cover of Time will change a lot of perceptions surrounding disability and para-sports in India as well as Asia. Also, with Barbie modeling a doll to my likeness to inspire young girls will surely help in molding the impressionable young minds. Because the earlier we start talking about inclusion and diversity, the bigger difference we will make to the next generation", said Manasi to The Times of India.
A billion Indians will look forward to the Tokyo Olympics, where Manasi will carry the dream of an entire country on her shoulders, as she proves once again that with determination and perseverance, no matter what tragedy life writes for you, you can turn it into a story of glory and triumph.