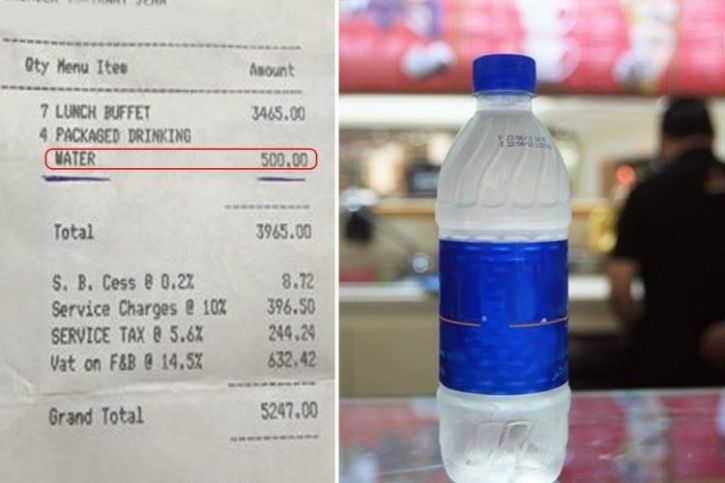 Often we come across restaurants overcharging us, not only for the food but a mere water bottle is sold triple it price by many restaurant owners.
To stop such overpricing Delhi high court had earlier passed a ruling to jail management of restaurants, hotels, multiplexes, etc for overcharging.Because of which a petition was filed by Federation of Hotel and Restaurant Associations of India (FHRAI) against the DHC.
Overruling the petition, recently the center submitted an affidavit maintaining the rule. According to Indiatimes the Centre said overcharging on mineral water bottles would be "tax evasion" and just something against consumers' interest.
"Sale of packaged water over MRP by hotels and restaurants may have implications regarding tax evasion as a bottle purchased by a hotel at cost price, which should be sold at MRP or less, is being sold at much higher prices, leading to possible loss of additional revenue to the government in the form of service tax or excise duty etc.," said the government, according to News18.
Also the section 36 of the act says "Whoever manufactures, packs, imports, sells, distributes, delivers or otherwise transfers, offers, exposes or possesses for sale, or causes to be sold, distributed, delivered or otherwise transferred, offered, exposed for sale any pre-packaged commodity which does not conform to the declarations on the package as provided in this Act, shall be punished with fine which may extend to twenty-five thousand rupees, for the second offence, with fine which may extend to fifty thousand rupees and for the subsequent offence, with fine which shall not be less than fifty thousand rupees but which may extend to one lakh rupees or with imprisonment for a term which may extend to one year or with both."
This decision surely comes in as a respite for common public, who necessarily need to spend more than required.Now customers can get the same services and at the same time also save their money.