In what was a casual humorous remark passed in the commentary box by the Indian legend Sunil Gavaskar about Virat Kohli in an IPL match about his batting, has now blown up into an all-out controversy on social media.
In the commentary box, Gavaskar had said: "Ab joh lockdown tha to sirf Anushka ki bowling ki practice ki unhone, wo video dekhi hai (reference to a viral video), usse to kuch nahi hona hai (During the recent lockdown he only practised to Anushka's bowling, I saw a video. But that is not going to be enough).
Gavaskar was referring to a video clip that went viral after it was posted on a Kohli fan page. In the video, Kohli can be seen bowling to Anushka before taking to the stumps. The video then shows Anushka bowling to him, and even attempting a few bouncers.
However, someone picked only the first line of his comment and posted it on Twitter hinting that Gavaskar made a perverse and sexist comment about Virat and Anushka's private life.  The tweet went viral on soon after the match and did not go down well with Kohli's fans, leading to massive outrage with some urging the BCCI to remove him from the commentary panel.
Dear #SunilGavaskar, apart from @imVkohli, other cricketers are also married, so next time try and talk about them as well. Just because @AnushkaSharma is a star, that does not mean she can be targeted all the time!! Next time try this one on a non celebrity wife!!

— salil arunkumar sand (@isalilsand) September 25, 2020
Reacting to Gavaskar's comment, Anushka Sharma called it 'distasteful'. She posted on Instagram: "Mr. Gavaskar your message is distasteful is a fact but I would love for you to explain why you thought of making such a sweeping statement on a wife accusing her for her husband's game? I am sure over the years you have respected the private lives of every cricketer while commentating on the game."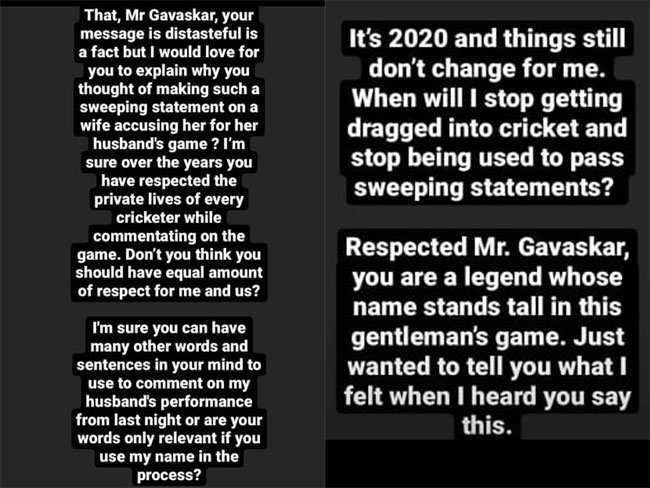 She also expressed frustration at her name being pulled into Kohli's cricketing performance regularly. In her Instagram post she further added," It's 2020 and things still don't change for me. When will I stop getting dragged into cricket and stop being used to pass sweeping statements?"
After a day of internet storm, Gavaskar sought to clear the confusion, clarifying his comments on Virat Kohli's performance in the Indian Premier League clash against Kings XI Punjab, and said he had never blamed Anushka Sharma and that he had only commented on their social media video.
In a report in India Today, Gavaskar was quoted as saying, "Firstly, I would like to say it again. Where am I blaming her? I am not blaming her. I am only saying that the video said that she was bowling to Virat. Virat has played only that bowling during the lockdown period. It's a tennis ball, fun game that people have to pass time during the lockdown. That's all. Where am I blaming her for Virat's failures?"
Gavaskar also rubbished allegations on social media that he made a 'sexist' comment.
He stated that he has always supported that wives going with husbands on tour. "You know me, I am the one who has always batted for wives going with husbands on tour. I am the one that a normal guy going to the office for a 9-5 job, when he comes back home, he comes back to his wife. Similarly, cricketers, when they go out for a tour or even when they are playing at home, why can't they have their wives with them?"
"Because after their working hours are over, they have to get back to their wives like every other common man does. So I am not blaming her."
Explaining his statement he further said, "As you can hear from the commentary, Aakash was talking about the fact there has been very little chance for any proper practice in the lockdown, for everybody, and that has actually shown the rustiness of some of the players in their first matches. Rohit (Sharma) didn't strike the ball well, now in the second match he has got runs, MSD (Mahendra Singh Dhoni) didn't strike the ball well in the first match."
He then also explained what exactly he said and that his words had been twisted.
"…..Anushka was bowling to him, so that's what I said, that's the only bowling, I have not used any other word. She was bowling to him, that's all, where am I blaming her, where I am being sexist in this. I'm just only stating what was seen on the video which was maybe recorded by somebody in the neighboring buildings and put up and that's the only thing I'm doing, but the point I'm trying to make is that there was no practice for anybody including Virat in the lockdown.
"…I have not been sexist, if somebody has interpreted it, what can I do," Gavaskar said.
However, after the initial outburst of Kohli fans, fans of the game stood by Gavaskar.
Gavaskar's exact words were that Virat was so desperate for practice that he was playing cricket in the lockdown with Anoushka & neighbours had actually taken a video of that. What exactly did he say that was demeaning? Or did you hear something that I obviously missed? https://t.co/KQK2TT5MCh

— Joy Bhattacharjya (@joybhattacharj) September 25, 2020