The story has remained the same, only the names of the women have changed over the years. Yet no step has been taken against the known poster boy of sexual assault and harassment of Bollywood – Sajid Khan, against whom various women have spoken out time and again but the industry and police have turned a deaf ear too. In the latest revelation, BBC had recently come out with a three-episode documentary series titled 'Death in Bollywood' that traced the mysterious death of late actress Jiah Khan who allegedly died allegedly by suicide in 2013. The first episode of the docuseries was aired last Monday and subsequently, the other two episodes were released as well. The series has only been released in the United Kingdom.
In the second episode of the series, Khan's sister Karishma made explosive revelations of sexual harassment of the late actor by filmmaker Sajid Khan. Jiah's sister is the sixth woman from the showbiz industry who has accused the film director, Sajid Khan of sexual harassment, in the wake of the Me Too movement that took the country by storm in 2018.
In the video, Jiah's sister leveled allegations of sexual harassment against Sajid Khan, claiming that he asked Jiah to strip to her bra during a script-reading session. "When she was asked by Sajid Khan to take her top off, she came home and cried. She said, 'I have a contract, so if I leave, they can sue me and slander my name. If I stay, then I am sexually harassed.' It was a lose-lose situation," Jiah's sister said.
Karishma, who was just 16 then, also recounts how she was also targeted by the filmmaker. Karishma revealed that the director had made inappropriate remarks about her. She narrates her harrowing ordeal, "I remember going to Sajid Khan's house with my sister. I remember being around at Kitchen's table, I was only 16 at that time. I was wearing a strappy top. He leaned on me, and started staring at me. Then he said, 'Ohh she wants to have sex'. My sister Jiah immediately came in to my defence saying, 'no what are you talking about', and he said, 'Look at the way she's sitting'. My sister said no She said no she is innocent, she is young, it's not what she wants. And then we left shortly after that. But I was feeling really cheap and shocked," Karishma said according to OPIndia.
She shared the clip on Twitter with the caption, "Reminder that Sajid Khan is not in jail yet." Soon after the snippet started going viral on the internet, renegade actor Kangana Ranaut took cognizance of the clipped and slammed the Bollywood industry for allegedly victimizing her, Sushant Singh Rajput, and Jiah. She mentioned the existence of a closely guarded Bollywood mafia that has been exploiting people over the years but nothing has been done against them.
They killed Jiah they killed Sushant and they tried to kill me, but they roam free have full support of the mafia, growing stronger and successful every year. Know the world is not ideal you are either the prey or the predator. No one will save you you have to save yourself. https://t.co/7QwHAr9BBv

— Kangana Ranaut (@KanganaTeam) January 18, 2021
Sharing the video, Kangana said, "They killed Jiah they killed Sushant and they tried to kill me, but they roam free have the full support of the mafia, growing stronger and successful every year. Know the world is not ideal you are either the prey or the predator. No one will save you you have to save yourself."
However, the accusations made by Jia's sister cannot be taken lightly as there have been multiple accusations against Sajid Khan in the past. Similar allegations of sexual harassment leveled by model Paula against film director Sajid Khan. Just like Jiah Khan was allegedly asked by Sajid to strip off in front of him, the film director had asked model Paula to take her clothes off. Apart from Paula, Khan has been named by multiple women including two actresses – Saloni Chopra and Rachel White – and one journalist for sexual misconduct. He has been called out not just for harassment but also for allegedly flashing women.
A journalist (unnamed) accused Khan of forcibly kissing her and putting his tongue down her throat. Khan's then assistant director and aspiring actress Saloni Chopra also shared her blog about Sajid, in which she explained how he tried to harass her. After seeing Saloni's tweet, model turned actress Rachel White also replied on the same and shared her uncomfortable encounter with Khan. Besides the trio, 'Lipstick Under My Burkha' actress Aahana Kumra also alleged that though Khan did not touch her, he had asked her inappropriate questions when she met him regarding work. Actress Mandana Karimi revealed that Khan made inappropriate remarks and asked her to take off her clothes when she visited his office to discuss a role in his 2014 film 'Humshakals'.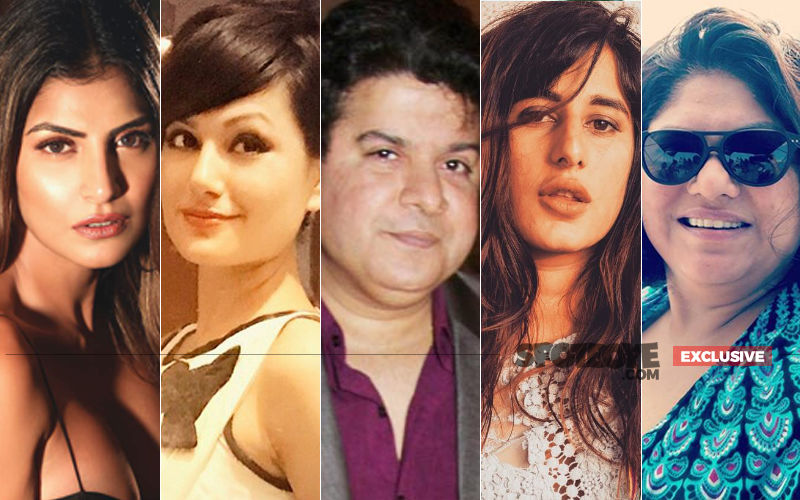 Not only women have accused Sajid Khan of sexual harassment. Ace tennis player, Mahesh Bhupathi had also come forward to give his take on the sexual harassment allegations leveled against filmmaker Sajid Khan. In an interview with Business Standard, Bhupati had revealed that his actor wife Lara Dutta had complained to him that her co-star was being subjected to "rude, vulgar" behavior on the sets of Housefull.
In America, we have seen popular filmmaker Harvey Weinstein be sentenced to 23 years of jail for rape and sexual harassment after multiple women spoke out about their experiences and how he abused his power to exploit women and threatened them to keep quiet. Jia's sister is the sixth woman to come out about instances of sexual assault by Sajid Khan. It is high time that an independent investigation is carried out, and if found guilty, he should be given the appropriate punishment. Otherwise, incidents of sexual abuse will continue in the industry that is largely dominated by directors and producers who yield power to determine the careers of young actresses.