'Atmanirbhaar Bharat' and 'Make In India' has been the theme of this country in recent times. Though development and production various sectors have been sluggish in keeping up with the zeal with which the slogans have campaigned, we have a recent development of an innovate project involving artisanal bamboo bottles from Tripura, which is the perfect example of how 'Make in India' can help transform the country, in every aspect.
The project took social media by storm and gained kudos when Indian Forest Service official, Prasad Rao Vaddarapu, also the mastermind behind this project, tweeted announcing readiness to take orders. A part of Tripura Rehabilitation Plantation Corporation Limited, the bamboo artisanal bottle project is designed to offer better livelihood to cultivation farmers of Tripura.
According to The Hindu, Prasad Rao said, "The initiative is to help the tribal communities in Tripura use the locally-available resources to make value-added products to make them economically independent. After thorough learning and understanding of various types of bamboo of the northeast, I decided on a particular variety that is native to the region (I cannot give out the name of the bamboo as it is a trade secret). For the project, we trained ten master craftsmen who in turn trained 1000 other craftsmen for the design and the process. It took eight months for us to prepare a prototype, after which we started production."
The project got a big popularity boost after Bollywood star Raveena Tandon tweeted about ordering an eco-friendly bottle, and lauded the initiative which would provide a steady livelihood to the locals. Tripura is known for its bamboo crafts; that is because the state grows 28% of the country's (India) annual bamboo.
Just ordering mine! Have you? pic.twitter.com/r6b0efE9FC

— Raveena Tandon (@TandonRaveena) June 26, 2020
Speaking to indianexpress.com, Rao said these bamboo bottles are far more superior than the products available in the market as they are properly treated and don't store water directly on the bamboo surface.
"It is a unique project. There are some bamboo bottles from China available in the market but those use cheap and light bamboo columns to make the bottle. Water or other liquid is directly stored in them, leading to bad odor, fungi build-up that might be toxic for the body", the official said.
Tripura Rehabilitation Plantation Corporation's (TRPC) flagship Van Dhan bamboo bottles come in two major variants now – copper containers or thermal flasks, both encased within treated bamboo columns. They are customizable for bulk orders.
The leakproof bottles come in four sizes — 300ml, 500 ml, 750 ml and 1000 ml — and are priced between ₹700 and ₹1200, excluding tax and shipping charges, while the thermos flasks cost around ₹1300 for 750 ml.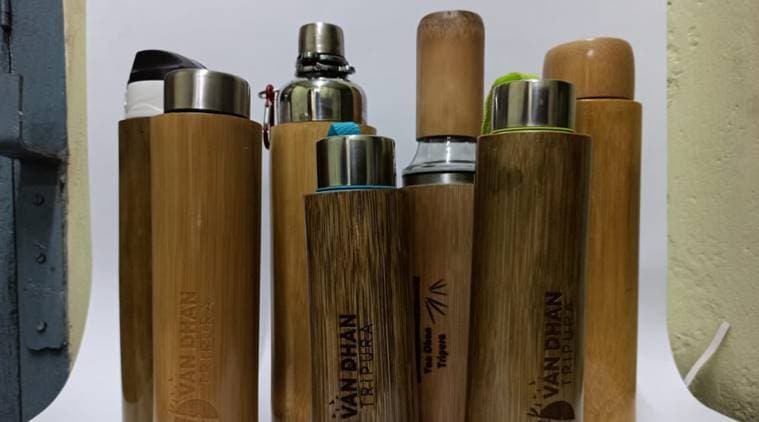 "These products are all handcrafted and I am happy that they have become a source of income for the tribals who work on it," adds Prasad.
A project that was not sure of success, and certainly a brave new venture has become a milestone in eco-friendly innovations. Having received over a lakh order in a day, Prasad and his team is a busy man, trying to keep up with the demand for bamboo bottles – a sign of a cleaner, better India.